SkyVuBen talking BBR2
Ben and I decided to livestream a bit of BBO and BBG today. Here is a written synopsis of his commentary during the livestream.

With the BBG/R (Battle Bears Gold Revamp/Remaster)
1. Keep it as true to BBG as possible
2. Not a HUGE overhaul of everything

There is no definite date on when BBO will be winding down, but it will be at some point.

The publishing partner will deal with marketing efforts of BBG/R.
This helps the SkyVu team focus solely on generating content for the fan base.

Ben personally prefers using Kickstarter as a source of funds for Battle Bears, but it takes up a lot of time and "it's like running a business on top of a business".

Ben is reaching out to BBG fans for feedback for the revamp on the forums and FaceBook. He will be set up closed FaceBook group "Battle Bears Revival Group" for dedicated players to give feedback. These players will guide the direction of BBG/R.

BBG/R will have an improved backend code base. This will allow for... (Ben was interrupted before he can finish the sentence, I assume he meant it would be easier to add updates quickly.)

The Saberi class will be withdrawn from BBG/R. This is due to a rushed design and rushed implementation. There is a possibility of a return to Saberi way down the road when issues with her class have been fixed. Ben and his team tried to do to much and overreached. As a consequence, BBG crashes and is not very smooth.

The SteamYard blues map will be removed from BBG/R. The SkyVu team are at work on another game in addition to BBG/R. (Whoa!)

BBG will receive at least one minor update before Christmas to get at least a winter themed No Bear's Land map.

Ben is not sure if BBG/R will come as a big update to the current BBG app or as a separate app.

Anyone who downloaded BBR will be a part of the "beta profile".

Ben might consider adding more campaigns to the original trilogy apps (eg. BB Zero), but this is further in the future.


Source: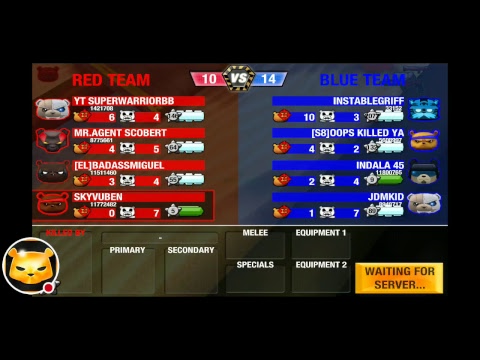 Update: Another Ben livestream on Dec 2, 2017.
I'm OKY also known as Oops killed ya. I'm a proud ex-coleader of DL and currently in Storm Eight clan v4. In BBO, I also went by the name of "Greendragon0107".
Youtube
Everyplay
Twitter
SkyVu Zendesk Support
"The time you enjoy wasting is not wasted time." — Bertrand Russell
Zor was here